Reminder Athletic Fundraiser pick up tomorrow from 9:00-11:00 in the main school parking lot for Laundry soap and Body wash. Have a great weekend T-Birds!
Friday 9/28 - Green Day and Start with Hello Selfies  Students will wear a green shirt for $1 in support of Start with Hello and Sandy Hook Promise. All donations will be made to Sandy Hook Promise.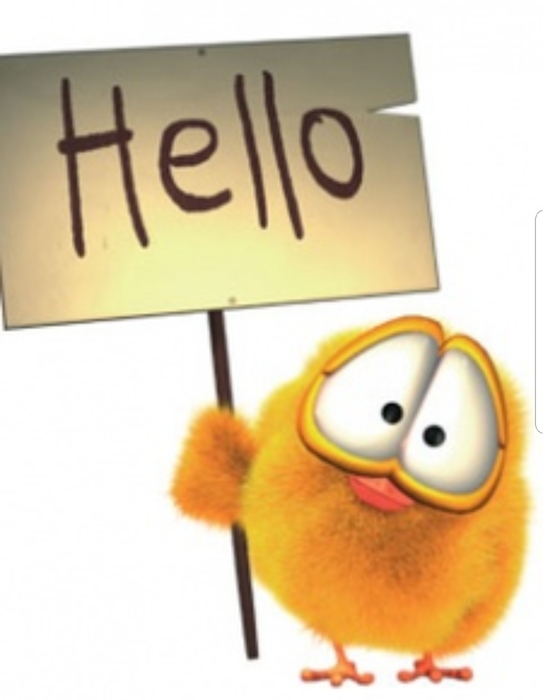 Thursday 9/27 - Cookie Message Students can buy a cookie for a quarter and write a positive message on the plastic baggie at lunchtime. Hand it to someone who needs a pick-me-up. The money earned will go towards Sandy Hook Promise.
Wednesday 9/26 - Lunch Mixer At lunch today the students will use the ice breaker questions to have a conversation with the person across from them. When the bell rings, move one seat to the right and ask other questions. 
Tuesday 9/25 - Hey Day Students will receive nametags in homeroom. Write down your name and write your class (freshman, sophomore, junior, senior). While you are in the hallway say hello and say their name. 
When Lynajah Grisby and Sydnee Jones heard about Kylie Richards, the young girl injured on the ride at the fair, they wanted to find a way to help. Through their efforts a total of $716.51 was collected from St. Rose, St. Gerard and LCC for Kylie. We are so proud to call these 2 ladies Thunderbirds! #Leadserveexcel #soaringthunderbirds
Monday 9/24 What is Start with Hello Week? Today in theology classes students will discuss social isolation and the steps to take to include students. They will complete the activity "In My Shoes".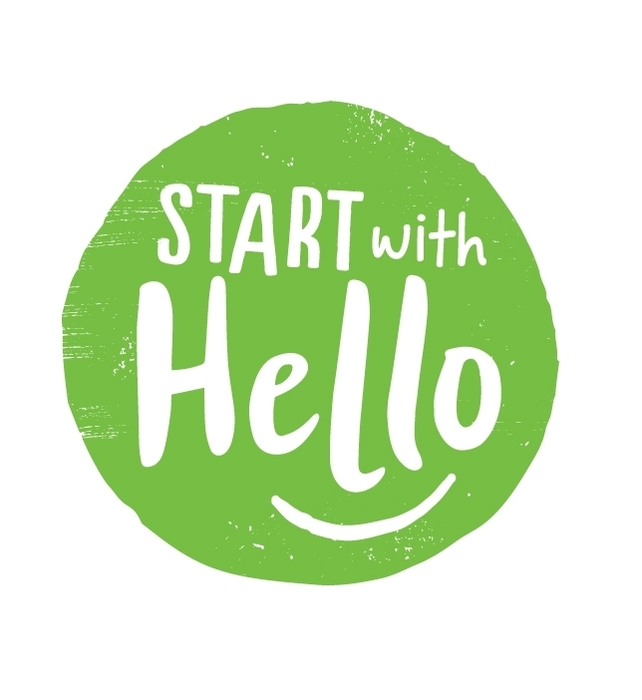 Start With Hello Week: September 24–28, 2018 A Youth Violence Prevention Program by Sandy Hook Promise What is Start With Hello Week? During the week of September 24–28, hundreds of schools and youth organizations from across the United States will participate in Sandy Hook Promise's third annual Start With Hello Week. Start With Hello Week brings attention to the growing epidemic of social isolation in our schools and communities and empowers young people to create a culture of inclusion and connectedness within their school or youth organization.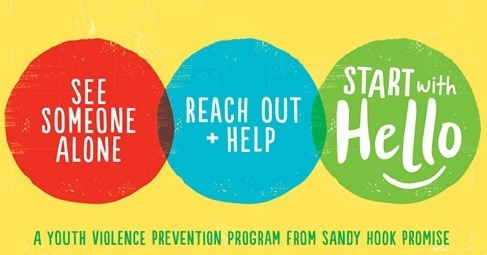 Big win for the Thunderbirds today! We improve to 4-0 with the win over D1 Toledo Waite. LCC 67 Waite 20
‼️TONIGHT‼️ Join us as we kick off Alumni & Homecoming Weekend with TWO free events! The Wall of Athletic Excellence Induction begins at 7pm in the Alumni Gym (old gym) Followed by the Taste of LCC beginning at 8pm!! ALL ARE WELCOME!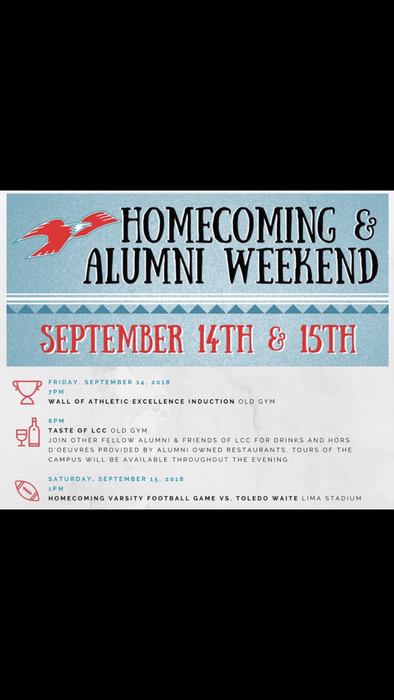 Happy Friday~ LCC is closed Friday, 9/14/18. Students please check your LCC email later today for homecoming details.
Friday, September 14, 2018, Lima Central Catholic is on a 3 hr. delay.
Friday, September 14, 2018, Lima Central Catholic is on a 2 hr. delay.
On Wednesday, September 19 3 reps will be coming to LCC. The University of Dayton, that will start at 9:00. At 10:00 Rhodes State College will be coming in to talk. The last will be Heidelberg University at 11:00.
Reminder for all Juniors. You will have the PSAT/NMSQT on October 10. This will begin at 8am in the Great Hall. You must pay $20 prior to taking the test.
On September 19, the PreACT for Sophomores will start at 8am in the Great Hall. Remember you must bring the guidance $15 prior to the test.
2017-18 yearbook orders can be picked up in the business office. Didn't order one last year? We have 20 extra yearbooks for sale for $60 each!
Congratulations to Shaun Thomas, Schrader Realty's Player of the Week!!!
Congratulations to Maritza Aguirre, Curtis Wilkerson, Nicholas Chambers and Aujalia Bruce on being named the math students of the month for August 2018.  Maritza is in 2 college level math classes and never gives up.  She is a diligent worker and maintains very high grades.  Curtis is trying very hard in his class.  He volunteers and he's really mastering the material.  Nicholas has a good work ethic and he is prepared for class everyday.  Aujalia contributes in class and she is doing a great job.  Keep up the good work Thunderbirds!!!