Purpose
To formally recognize the alumni of St. Gerard, St. John, St. Rose and Lima Central Catholic High Schools who have excelled in the category in which nominated and who have lived their lives as faithful Catholics.
Eligibility
Nominee must be a former student of St. Gerard, St. John, St. Rose or Lima Central Catholic High School in order to be nominated for the Professional Achievement, Athletic Achievement or Community Service Awards.

Friends or alumni of Lima Central Catholic High School can be nominated for the Service to LCC Award.

Nominee must have received local, state or national recognition for accomplishments in the category for which they are nominated.

Candidate must be of excellent character and actively living a life following in Christ's footsteps.
Required Documentation
An application and two letters from individuals supporting the nomination must be submitted prior to January 15 in order to be considered for the next Hall of Fame Awards Ceremony. Applications received after January 15 will be considered for the following year's ceremony. APPLICATIONS MAY BE FILED ON LINE OR MAILED TO: Hall of Fame Committee, Lima Central Catholic High School, 720 S. Cable Rd., Lima, Ohio 45805 or emailed to pshanahan@apps.lcchs.edu or faxed to 419-222-6933. For questions or concerns call the Alumni Office at 419-222-4276 or email at the above email address.
The 2023 Hall of Fame Induction Ceremony will take place Saturday, May 6th, 2023 at 1pm at Lima Central Catholic High School.
HALL OF FAME AWARDS – 2022 RECIPIENTS
Congratulations to the 2022 Inductees:
William Paul Gallagher, St. Rose 1914, for Community Service
Mary Henne Weadock, 1962, for Athletic Achievement
Bill Taflinger, 1963, for Service to LCC
Toby Cardone, 1963, for Professional Achievement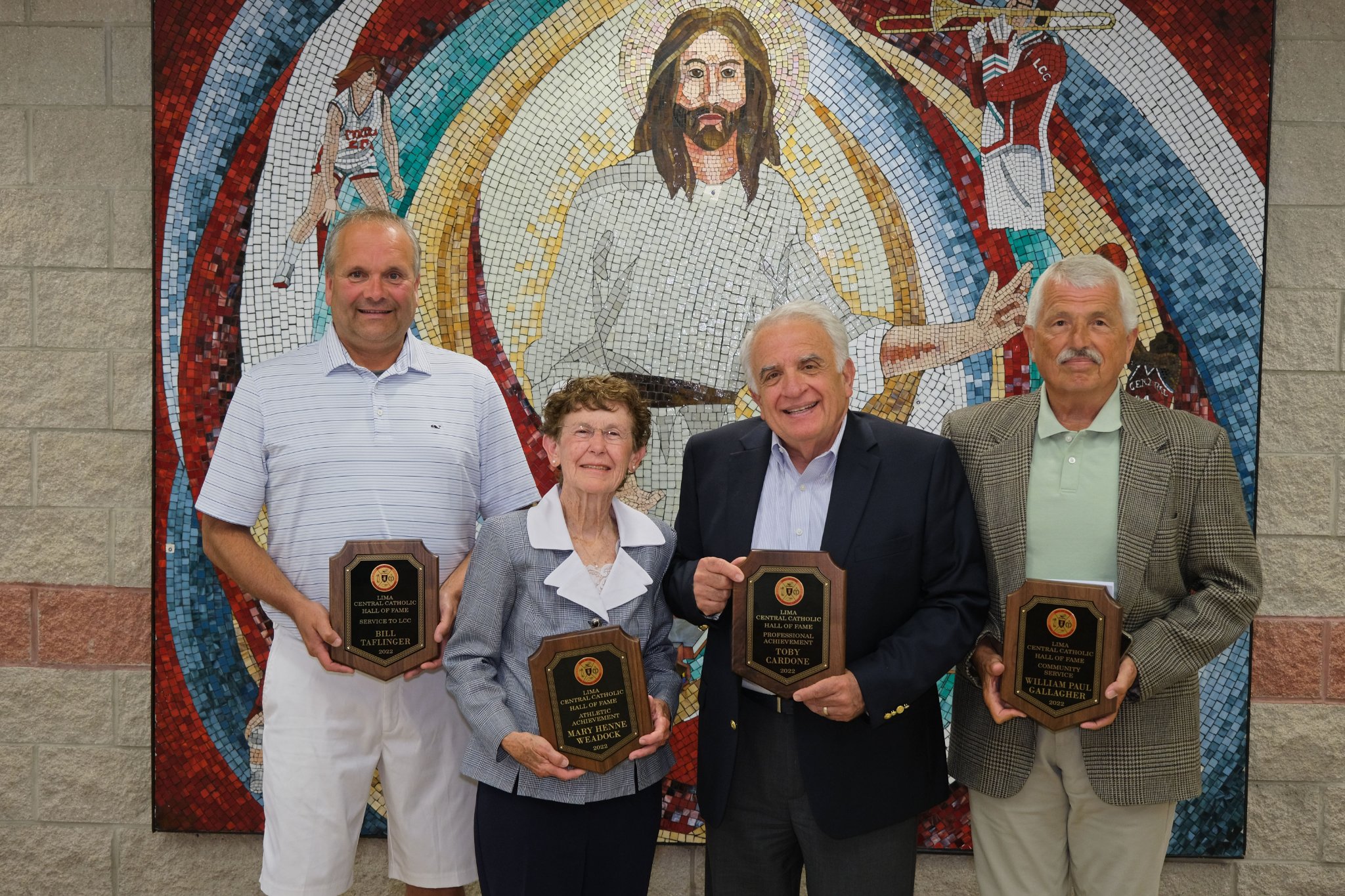 A list of all members inducted since the formation of the LCC Hall of Fame in 1988 can be found by clicking here.